Lets take it back to 2015 when I got married. We had planned to go to the Dominican Republic for our honeymoon, but were not able to so decided to not have a honeymoon yet. Instead, a couple days after our wedding we went on a little trip to Saubo Beach with my family. While we were there my family convinced us to go away on our own for a couple of nights locally. So the search began.. we looked for cottages, cabins and hotels. The stars aligned for us that day because it didn't take long to find an island retreat that was only a couple of hours away. The cherry on top… the island is full of roaming animals. This HAD to be too good to be true! I called right away and booked us in for that night in the sunset eco-cabin. We set off on our road trip to Rice Lake, enjoying the views of the beautiful Canadian countryside.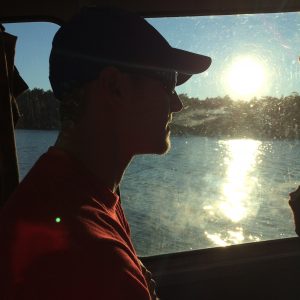 When we arrived we were greeted by TJ, the owner of island spirits and captain of the ferry that was about to bring us to the island. She was friendly, funny and accommodating. We couldn't have asked for a better host. We glided gently across the lake as the sun was setting to a flourishing island.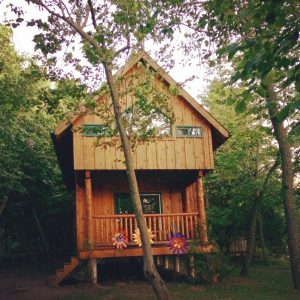 She pulled up to a little beach surrounded by trees, which we found out was our private beach for the next few days. Could this get any better!? On the beach there was a fire-pit,  plenty of muskoka chairs, and some children's toys. Peeking through the trees we could see it, the eco-cabin! We ran over, with excitement, to check out our cozy cabin. The cabin was surrounded by trees which was nice to have added privacy for two honeymooners.
On the main floor their was a sofa bed, table, and kitchenette with plates, pots, utensils and everything you could need to cook (on the BBQ outside), and a couple cupboards, filled with books, board games, and a guest book. Perfect rainy day activities. Upstairs there were 6 single beds, we moved 4 together to make one big bed!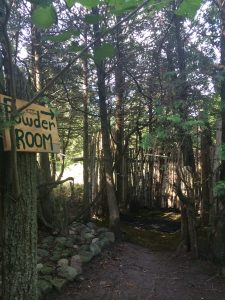 To the left of the cabin is a BBQ, picnic area, another fire-pit lining the surrounding trees. Beyond the trees was a chicken-coop and toilet. WARNING.. the toilet is not flushing, you put saw dust over your waste.. it is an eco-resort after all. I was a little put off by this at first but after using it once was fine (although I did make my husband come with me when I needed to pee late at night!).
Behind the property was a big outdoor shower, partially enclosed with live walls. It was beautiful! I felt so free showering in nature, it was amazing.
We decided to unpack later and explore the island now before the sun set! It was gorgeous, and the views across the lake at sunset were breathtaking. On the walk we came across the other accommodations; tee-pees, camping and other cabins. We also saw what appeared to be a big oven with a chimney, which we later found out was a 150 year old pizza oven that had been in the original cabin, I heard there was a pizza oven but didn't imagine it to look like this! We also came across animals; Alpacas, Pigs, Sheep, Chickens OH MY.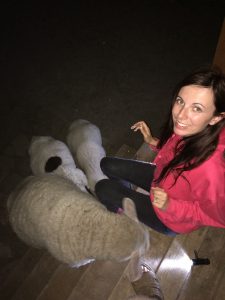 A-MA-ZING. I was in love with this place.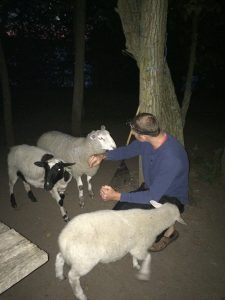 We soon became best friends with the sheep. In the evenings they would always come to visit us while we cooked dinner (probably why they visited us but we loved it either way! :D).
One of the pesky sheep even made its way up the steps into the cabin briefly while I was getting dinner ready and my man was at the BBQ. We helped the little one back down.
When we went to bed we heard some noise under the cabin, I was slightly freaked out so my husband went to inspect the noise.. it was the Sheep! They were sleeping under our cabin, and slept under it most nights we were there.
The next morning we went for a long walk, used the peddle boats available and then made a homemade pizza. My man taught me how to build a fire in the brick oven which was pretty cool. We prepped our dough and toppings while the fire got going. While the pizza cooked we enjoyed the views and had a drink. Life was good. This pizza was the ABSOLUTE BEST pizza I have ever had (and that is saying something, we got engaged in Naples where we consumed disgusting amounts of pizza). We ate two pizzas in one sitting, with no regrets. I can almost imagine the smokey taste of the pizza now (drool).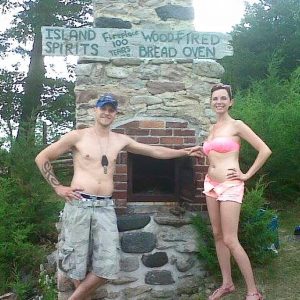 We went for a walk to the other side of the island to watch the sunset. We had to climb down this hill using a rope which I was scared to do because of an small accident I had from falling down a hill (and tripping over my own feet) resulting in a minor concision. I was a very clumsy child. I faced my fears and rappelled what seemed like a mountain. The views were spectacular. Worth the climb. After soaking up the sounds of nature of views we headed back to camp to make a fire. We finished our day with cuddles by the campfire, tea and smores.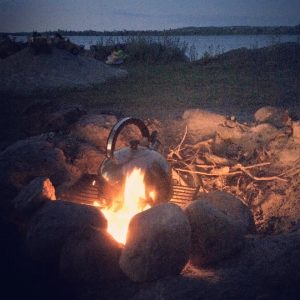 The trip was so good we came back the next week for 2 more nights! We haven't had a chance to get back yet but would love to this year to see the animals that have joined the island and to see how it has changed. If you love nature  and animals like we do, please take a trip here, I know you will love it as much as we did! <3